These corporate news are available in Swedish and English.
Please find the Interim Report July 1 2014 – June 30 2015 attached below.
[icon color="Extra-Color-1″ size="tiny" image="icon-file-text-alt"] Pressrelease for download: 2015-08-27 Press release Interim Report July 1 2014 – June 30 2015
[icon color="Extra-Color-1″ size="tiny" image="icon-file-text-alt"] Pressmeddelandet för nedladdning: 2015-08-27 Pressmeddelande delårsrapport 1 juli 2014 – 30 juni 2015
[icon color="Extra-Color-1″ size="tiny" image="icon-file-text-alt"] Läs hela bokslutskommunikén:  Starbreeze Fourth Quarter 2014-2015
FOURTH QUARTER (APRIL – JUNE 2015)
Total revenue amounted to SEK 92,5 million (SEK 51,6 million), an increase of 79% year on year. Net sales amounted to SEK 71,9 million, (SEK 51,3 million)
Operating income before depreciation, EBITDA, amounted to SEK 11,9 million (SEK 27,2 million)
Profit before tax amounted to SEK 11,1 million, (SEK 22,6 million) and profit after tax amounted to SEK 9,5 million (SEK 16,7)
Earnings per share before dilution were SEK 0,04 (SEK 0,08) and earnings per share after dilution were SEK 0,04 (SEK 0,08)
As of June 30, cash amounts to SEK 110,6 million (SEK 136,6 million).
During the quarter, PAYDAY 2 net sales amounted SEK 71,1 million (SEK 46,5 million).
In April Starbreeze entered into an agreement with 505 Games for the console distribution rights for OVERKILL's The Walking Dead. The agreement gives Starbreeze SEK 86,2 million.
In May Starbreeze announced its Publishing initiative with it's first business in Lion Game Lion's project, RAID: World War II, under development for PC.
In June, a collaboration with CMUNE was announced for the development of PAYDAY to mobile platforms.
In June, the acquisition of Paris based InfinitEye VR was announced, Starbreeze simultaneously announced its new project StarVR and virtual reality publishing initiative.
FISCAL YEAR 2014/2015 (JULY 2014 – JUNE 2015)
Total revenue amounted to SEK 232,3 million (SEK 223,2 million). Net sales amounted to SEK 197,3 million (SEK 213,8 million).
Operating income before depreciation, EBITDA, amounted to SEK 59,2 million (SEK 158,6 million)
Profit before tax amounted to SEK 46,6 million (SEK 142,5 million) and profit after tax amounted to SEK 34,1 million (SEK 118,5 million)
Earnings per share before dilution were SEK 0,16 (SEK 0,56), and earnings per share after dilution were SEK 0,15 (SEK 0,55)
AFTER THE PERIOD
In July, 3D and VR game engine Valhalla was acquired.
In July, the Los Angeles developer studio Orange Grove Media was acquired.
Also in July, Starbreeze announced that it had acquired the remaining shares in PAYDAY Productions LLC, which finally gathered the remaining IP rights to PAYDAY into the group.
In August Starbreeze announced its first virtual reality publishing project in collaboration with Lionsgate; a first person shooter game in VR based on the hit movie IP John Wick.
CEO BO ANDERSSON KLINT GIVES HIS COMMENT
Starbreeze expands
Starbreeze fourth quarter will be added to the successful history of the company with net sales reaching 72.0 MSEK, an increase by 41 per cent year on year. Total revenues reached its highest point since the launch of PAYDAY 2 growing with 72 per cent Year on Year. Our best selling franchise, PAYDAY 2, grew at all time high 53% reaching 71.1 MSEK.
Starbreeze continues to deliver both growth and profit for the third quarter in a row, almost two years since the launch of PAYDAY 2. As stated last October – we will not stop making PAYDAY. The brand is our most valuable asset to date, and an asset that we know how to expand, monetize and excite our customers with.
Accumulated net sales for the fiscal year 2014/2015 totals 197.3 MSEK. An incredible year of growth, investments and R&D while still rendering substantial profit on our way to multiple releases in the upcoming years.
While we continue to be very selective with our spending, the intensified acquisition and marketing activities have not only meant higher investments, but also increased operational costs during the fourth quarter. However, a significant part of these are of non-recurring nature, such as costs related to the acquisitions of Valhalla, InfinitEye and Orange Grove Media and the extra marketing activities for StarVR.
We'll continue the tight supervision and control of our operating expenditures. The running costs for the new organization and brands are now stabilized and with our portfolio is set up to generate revenue from multiple IPs and products in a for us unprecedented scale during the next three years. Q4 was an extreme quarter but instrumental for the future growth of Starbreeze. Already during the first quarters of the financial year 2015/2016 we expect the level of spend to sink back down.
With the most active quarter in Starbreeze's history behind us, cash remains well above 100 MSEK and contracts worth over 200 MSEK are in place. We foresee a positive cash flow from operations for the financial year 2015/2016.
Starbreeze has now solidified its sales pulse based business and established itself as a major global player in the online games industry. We have rapidly increased our game portfolio from two to ten products that now are in production.
We also executed on our strategy to take large steps to gain market share. Not only in our game segment but expanding our publishing operations and brands under the Starbreeze flag. We've made major acquisitions in Virtual Reality and Next Generation cloud based development technologies. We have future proofed Starbreeze and its partners for a decade to come.
We have turned Starbreeze into one of the few companies in the world that are public and where investors can capitalize on the potential of Virtual Reality from hardware to software and publishing.
Starbreeze now represents a full vertical in the digital space, in the present and future markets.
In a year Starbreeze has transformed from a small independent developer into a name to be reckoned with in the global market of online distribution, IP creation, Virtual Reality and innovation. It is worth to repeat what a leap Starbreeze has taken to expand its product portfolio. Here follows a quick overview of Starbreeze future revenue streams:
PAYDAY 2 on STEAM
Our hit brand with production of free and paid DLC expansions is unprecedented in the world. We deliver faster and better than any other FPS developer on STEAM. PAYDAY has many more years of DLC-releases to come and also hold enormous potential in the shape of a PAYDAY 3 in the event we chose to create it in the future.
PAYDAY 2: Crimewave Edition
Now released in retail and on the digital market by our partner 505 Games for Playstation 4 and XboxOne. The game is paving the way for all our future products to be on these platforms if we so desire. The product also gave us a significant revenue push in Q4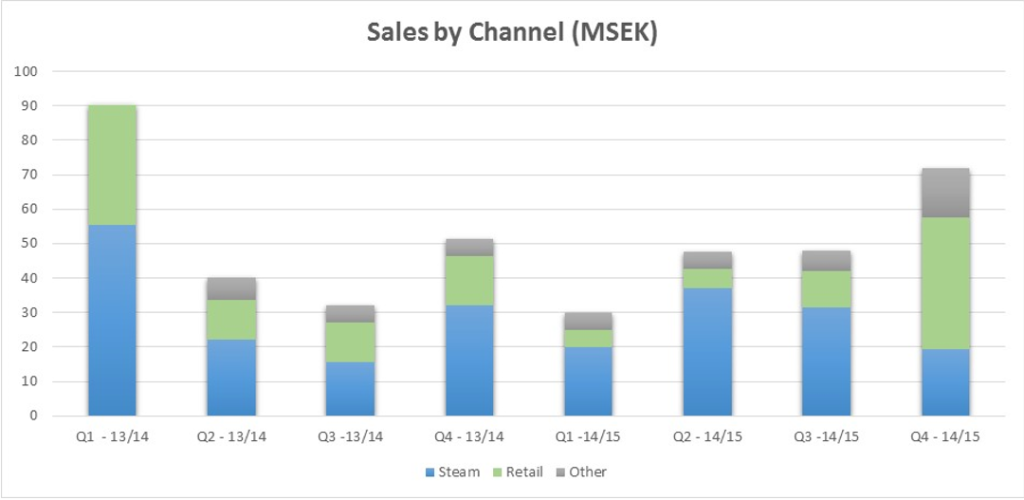 PAYDAY Mobile
This product is our entry into Asia and our experiment with the Free to Play model on mobile in collaboration with CMUNE. We see it as a learning experience for future products and an exciting opportunity for additional revenue.
OVERKILL's The Walking Dead
In an amazing deal with Skybound and Robert Kirkman, Starbreeze has a decade long collaboration set up to build products on The Walking Dead franchise. We are making great progress and an exciting game is taking shape in our Los Angeles and Stockholm studios.
OVERKILL's The Walking Dead in Virtual Reality
As a separate product in Virtual Reality, this will be a flagship for our VR publishing. Shown to an amazed audience at E3 this year we are set on monetizing early with a world famous brand. Already touring the US in our mobile OTWD RV, the game is building a pre-release audience early on.
RAID: World War II
As our first and, to date, most significant move into publishing, RAID is an investment in something familiar for our customer base. RAID is a four player cooperative first person shooter – just like PAYDAY- set in the time of the second world war. It is a genre with great revenue history and potential. With Lion Game Lions now stellar track record of continuously delivering quality PAYDAY DLC's, we see this game as a major product. We intend to show the public a first look at E3 in Los Angles June 2016.
Geminose
Our world of Geminose is growing at a good pace.  On our virtual island, the cute little animals are to be set loose in 2016. Our ambition is to make a product that appeals to young and old and with a 'toys to life' concept as an additional revenue stream. Our GEMINOSE brand is expandable and re-playable, as the rest of our products and represents how Starbreeze is able to widen its innovation to new products and franchises.
Dead By Daylight
Taken as a page out of the PAYDAY digital product book, Dead by Daylight is in full production at our partner studio Behavior. Four against One in a horror game of hide and seek, this creation is highly tailored to be expandable and re-playable. A great product to affiliate with horror brands for expansions and story. We can't wait to release some terror to the masses in 2016.
STORM
A heavy hitting sci-fi product crossing PAYDAY with SPACE is in the making. We see it as our future and is tuned to fit the audience' expectation of a triple A product. STORM is a co-op first person shooter with the pinnacle of our innovation capacity put into it.
John Wick in Virtual Reality
Our first VR dedicated publishing collaboration with Lionsgate. We work with the excellent VR companies Grab and WEVR developing a first person shooter experience based on the John Wick movie franchise. Starbreeze will be launching the game on multiple digital platforms and VR headsets. First out for the VIVE Headset from HTC and Valve.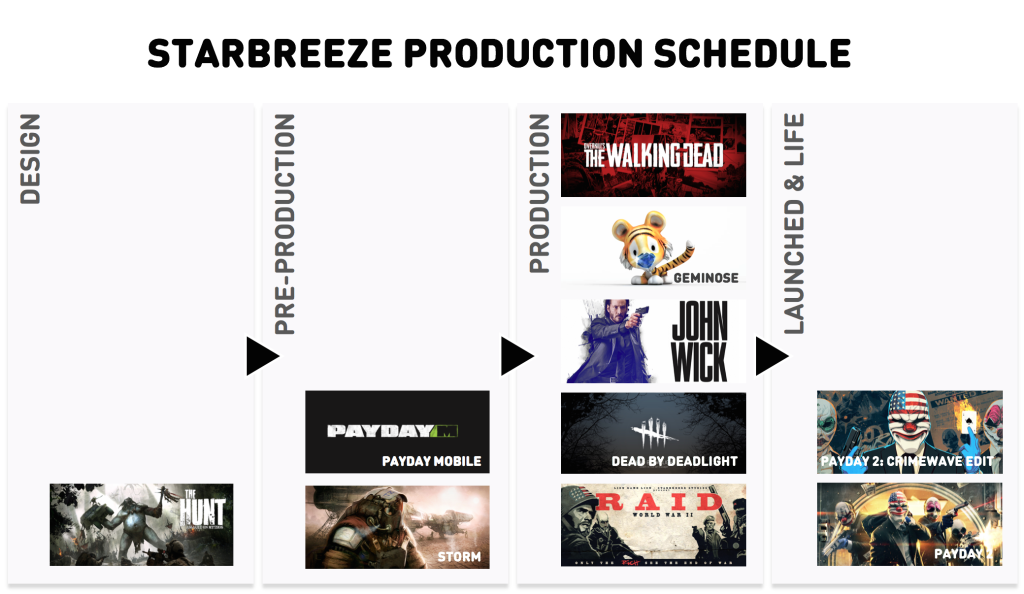 Our potential for future retail publisher deals such as done on PAYDAY and OVERKILL's The Walking Dead are also a security for us. With only two projects assigned to third party partners our portfolio holds a great flexibility for leverage of risk and return.
We are now looking to the East to expand our market even further. We aim for our products to reach the massive Asian markets and our first step is done through our mobile endeavor with PAYDAY 2 on mobile. With North America and European footholds in VR and online gaming, we're ready to progress even further.
StarVR
This year Facebook, SONY and Valve all endorsed VR as a new platform with massive investments. The industry is moving towards VR in force and multiple media outlets carry VR headset products from HTC and Samsung that now push into the space.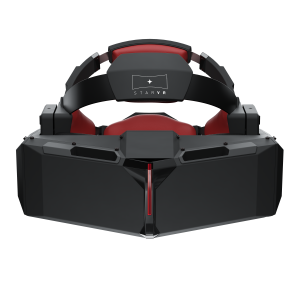 In an effort to further expand our horizons and become a strong content leader for VR, we announced a brand new initiative and business category for Starbreeze on the 12th of June: Project StarVR.
The project was launched out of our conviction that the new wave of virtual reality (VR) technology is just the beginning of a whole new era of gaming. Our desire is to strive to become one of the premiere companies in our industry in providing VR experiences for any platform.
Within the initiative, we announced the acquisition of renowned, Paris based, VR hardware developer InfinitEye. InfinitEye had for a long time been on our radar, being a small dedicated team with an amazing prototype for the most immersive head mounted VR headset in development. By giving the player a 210-degree uninterrupted field of view in the headset, it allows a full natural immersion in the game or movie. The headset previously marketed as InfinitEye, has now been renamed StarVR and the team brought into the group as Starbreeze Paris.
The potential for gaming, movies, location based VR, medical, simulation, amusement parks and, in the long run, reaching home users on the consumer market, is enormous and exciting.
For Starbreeze to be in the forefront as a pioneer, claiming a stake in hardware research, software development and publishing within VR, is key to our future potential and value. We compare it to how it was like when the first console arrived in the market.
Already working with companies such a Lionsgate, Skybound and Valve is a proof of concept for our potential and a valuable learning experience for us as a global VR player.
After a great summer of releases and fast development we already look forward to PAYDAY 2s second birthday celebration in October on STEAM. An event with much excitement and potential for both players and investors.
We keep reaching for the stars.
###
For more information, please contact:
Starbreeze Investor Relations Contact: Maeva Sponbergs, +46 (0)8 209 208 or [email protected]
About Starbreeze
Starbreeze is an independent creator, publisher and distributor of high quality entertainment products. With studios in Stockholm, Paris and Los Angeles, the company creates games by own design and through licensed content, aiming to create franchises that prosper as games and elsewhere. We live and die by gameplay.
Starbreeze's most recent games include PAYDAY 2, the adrenaline fuelled bank robbing co-op game and the upcoming survival co-op FPS OVERKILL's The Walking Dead based on the hit comic series. Starbreeze is pioneering digital self-publishing, inviting developers to leverage its self publishing knowhow on Steam, having one of the largest communities on the digital distribution platform.
Next, Starbreeze is set to develop truly immersive virtual reality experiences, integrating software and hardware in the Project StarVR and the StarVR head mounted display.
Headquartered in Stockholm, Sweden, Starbreeze's shares are listed on Nasdaq Stockholm First North Premier under the tickers STAR A and STAR B with the ISIN-codes SE0007158928 (A-share) and SE0005992831 (B-share). Remium Nordic is the company's Certified Adviser.
For more information, please visit http://www.test.starbreeze.com.